| | |
| --- | --- |
| Physiotherapy & Orthotics Service | A3 |
Surgical and On Call Physiotherapy Team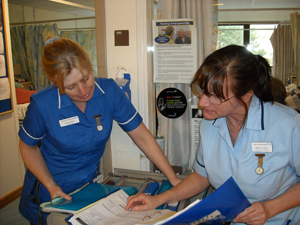 The surgical team offers a dynamic service in the intensive care, vascular/amputation and abdominal surgical wards (Parry, Waterhouse, Charlotte).
This rapidly changing environment offers daily challenges to the team in terms of both rehabilitation and chest care.
Our aim is to help patients return to their pre admission status after surgical procedures which include aiding in the prevention of chest complications and optimising mobility.
We have a strong role in the early rehabilitation of the amputee patient, helping to develop an individually tailored treatment programme with the patient to allow them to return to functional activities.