Opioids in Chronic Non-Malignant Pain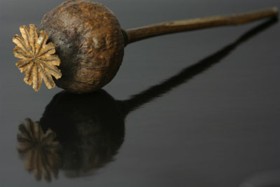 Long-term, or chronic, pain is very common, with almost half the general population experiencing it at some time. Most of these people will not need medical help, let alone prescribed drug treatment. However, there is a growing awareness that for a small group of patients with chronic non-cancer pain, the use of strong opioids can lead to a reduction in pain intensity.
The cornerstones of chronic pain management are improvements in physical, social and psychological functioning; the usefulness of opioids in providing these improvements is currently unsupported by evidence.
Strong opioids have been used in a variety of chronic pain conditions. There is evidence of benefit in chronic musculoskeletal pain, such as osteoarthritis, and in neuropathic pain. They are less useful in the treatment of poorly defined pain syndromes such as fibromyalgia, and in conditions where a rehabilitive approach is more appropriate (for example, low back pain of short or long duration).
This information is based on our experience in the pain clinic. For a more complete review of the use of strong opioids in chronic non-cancer pain, we recommend the joint British Pain Society, RCGP, RCA and RCPsych publication:
Recommendations for the appropriate use of opioids for persistent non-cancer pain (information for doctors)
Decision to prescribe
The decision about whether to prescribe strong opioids is a difficult one. The risks and benefits of instituting strong opioids need to be considered on an individual basis, by the clinician and the patient in partnership.
Effective communication between the Pain Clinic and the patient's General Practitioner is essential, particularly when the initial decision to prescribe is being made. Usually we are happy to take responsibility for the initial prescription and dose titration.
General principles
We will discuss the goals of a trial of strong opioids clearly at the outset. These will include a reduction in pain intensity, but may also include improvements in physical or social functioning. There is often an initial period where the opioid dose will need to be titrated to find the level at which benefits and side effects are most appropriately balanced. At the end of this period, we will discuss with the patient whether the goals have been reached. If they have not, then opioid treatment will be stopped in a controlled manner.
Dependence, tolerance and addiction
There is much confusion between these terms and it is useful to define them here. Many patients will have misconceptions which we will attempt to dispel.

Physical dependence is experienced to some extent by all patients taking opioids. It is defined by an opioid specific withdrawal reaction should the drug be stopped abruptly. Patients need to be aware of this and of the importance of a controlled cessation of treatment.

Tolerance is the need for a progressively higher dose of a drug to obtain the same effect. Most patients will display a degree of tolerance over time, although this is rarely a major problem, and can be minimised by the use of sustained-release preparations.

Addiction is defined by the compulsive use of opioids to the detriment of the physical or the mental health of the user. It is an idiosyncratic reaction, which requires both access to opioids and psychosocial vulnerability. It is rarely a problem in practice, but worrying signs are:
Prescription forgery
Stealing or 'borrowing' drugs from others
Selling of prescription drugs
Obtaining prescription drugs from non medical sources
Injecting oral formulations
Concurrent abuse of alcohol or illicit drugs
Non compliance with therapy despite warnings
Multiple episodes of prescription loss
Sourcing prescriptions from more than one clinician
Deterioration in social functioning that appears to be related to drug use.
Repeated resistance to changes in therapy despite clear evidence of adverse physical or psychosocial effects of the drug.
If we have concerns that the patient is misusing prescription we will discuss this with the patient and then make a referral to the local drug dependency service. If you have concerns that a patient known to the Pain Clinic is misusing prescribed opioids, we would ask you to contact the Pain Clinic as a matter of urgency.
Opioid Contract
Some clinicians like to formalise their discussion of the above points with the patient in the form of an opioid contract.
Side effects
The most common side effects are gastrointestinal. Initially nausea is common, but tends to settle after a week or so. If necessary, it can be treated with oral metoclopramide (10 mg tds). Constipation is a more persistent problem, and it is important to prescribe prophylactic aperients alongside the initial opioid prescription. Cognitive dysfunction (or confusion) is also common, particularly during the early stages of treatment and during dose titration. We advise patients not to drive during these phases, but there is evidence to show that their ability to drive safely is not impaired once they are on a stable dose. Itching is common and difficult to treat, although it sometimes responds to antihistamines.
Specific drugs and formulations
Sustained release morphine is our initial opioid of choice. No other opioid has been shown to be either more effective or have a better side effect profile in population studies. The exception to this is in opioid-responsive neuropathic pain, where oxycodone and tramadol have an evidence base that is currently lacking for morphine. However, for an individual patient in whom the use of morphine has been limited by side-effects, rotation to a different opioid may be of benefit.