Club Foot
Step 1: Starting Treatment – Plasters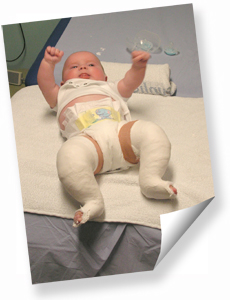 Treatment should commence as soon as possible following the birth of your baby, preferably in the first week or two after being born.
The initial stage of the Ponseti treatment is the application of plaster casts, which are applied by the physiotherapist to gently manipulate and correct the foot position.
These plasters are full length, which means they go from the toes, up over the knee, to the top of the baby's thigh.
Caring for your baby in plasters can be tricky to start with. Your physiotherapist will give you advice and support on how best to care for your baby whilst in plasters. Bigger babygrows are useful for example to accommodate for the plaster casts.
We will help take care of your baby whilst in plasters. For example we can weigh your baby in between plaster changes so you can still monitor their growth and development.
The plasters are changed weekly in the clinic and on average a baby needs up to 6 plasters. This can vary as some babies do need more as all club feet are different and some can be more resistant to treatment and require a little more time. We sometimes call these feet 'atypical club feet'.
Once the physiotherapist is happy with your baby's progress, the second stage of treatment can happen.
---
Also see: More Photos of this phase with explanatory text
Next Section: Step 2: Dividing the Tendon
---