Children's Centre
What to do in hospital?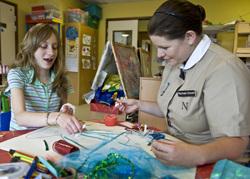 Once you are feeling better you will be able to watch TV or play with toys, books and games that you were allowed to bring with you, or ones that belong to the hospital.
Our children's Centre has someone who is called a Play Co-ordinator.
That means that she will have all sorts of things for you to do and you will be able to join in activities with other children too.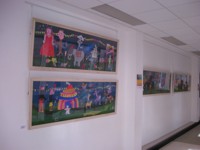 Our play coordinator works with different people to come up with interesting things for you to do. Sometimes the stuff that young patients have done, such as the Carnival of Dreams workshop, are displayed in the hospital and on our website.
More information about some of these art projects can be found on the residency and workshop pages on our Art at the RUH site