Work Experience/Shadowing
What we offer
Are you interested in working for the NHS in your future career?
Did you know there are around 350 different types of job across the NHS? 
Some of them need a degree qualification; for others, you can start straight from school or college via an apprenticeship.
Here at the Royal United Hospitals Bath (RUH), we are committed to offering work experience to students at local schools and colleges to support young people into future NHS careers.  If you are thinking of a career change towards health, we might be able to help too.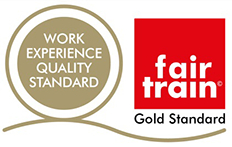 Our work experience is accredited to bronze standard by Fair Train against a national framework which recognises employers who offer high quality work experience.  If you come to us, you can be sure that we will try to offer you the best possible placement.

We try to offer as wide a range of work experience as possible. You might be an aspiring Doctor, Nurse, Therapist or Health Care Assistant.  Or you may be interested in our non-clinical departments such as Administration, Finance, Facilities, IT or HR. The key is a genuine interest in developing a career in the NHS in the future.
When should I apply?
The diagram below shows when we are open to receive your application for work experience.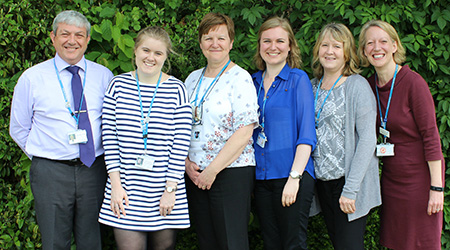 Once the application window closes, the Widening Participation Team (WPT), based at the RUH Education Centre, works with managers to try to match applications with suitable work experience placements.

Remember work experience places are limited. Complete your application by the deadline and take time and attention over it so that it stands out. 

If you are interested in shadowing one of our doctors to support an application to Medical School, you should also include your GCSE grades and A-level grades (predicted if you have not yet completed them). 
When is work experience available?
Work experience will take place from March until November 2018. When completing your application form, please give details of your preferred dates. Please provide as many dates as possible as this will help us when arranging your work experience.
Who can apply?
If you are looking for work experience in our ward / patient areas (for example shadowing our nurses, doctors or therapists), you need to be in year 12 or above.

We do have some work experience placements for younger students in our non-clinical departments such as Admin, Finance, Facilities, IT or HR.  You need to be a minimum of year 10 in age to access these placements. 

You need to be living and / or at school / college in the RUH's catchment area. This includes Bath, Chippenham, Corsham, Melksham, Trowbridge, Bradford on Avon, Westbury, Frome, Keynsham, Brislington and surrounding villages. If you are not within this catchment, please contact your local hospital in the first instance to see how they can support you. 
How do I apply?
The online application form is available on NHS jobs.  Before you apply, you will need to set up your own NHS jobs account. Follow the instructions on the site for this.

Once you are logged in to the NHS jobs site, please copy and paste our reference number below into the pink Keywords or Job Reference box and press Search.
Please note due to an error with the original application form, the vacancy has been updated. The new vacancy number is listed below.

Vacancy number: 427-WE2017002




Click on the vacancy called Work Experience Placement and click on the green box, Apply for this job.
This will take you to our online work experience application. Carefully read the guidance provided to help you complete and submit your work experience application form.
How do I apply for work experience at the RUH?
How do I fill in my NHS Jobs application form?
Click here to access our online work experience application form on the NHS jobs site.
If you need any help in completing an application or need to complete the form in a different format, please email us at ruh-tr.schoolsandcolleges@nhs.net or call the Widening
Participation Team on 01225 824281 or 01225 826041.
Are there any restrictions?
You can only do work experience if a sponsor / supervisor in the relevant department is available to fully supervise your time at the RUH and if the Widening Participation Team has processed the relevant ID checks and referencing.
The Trust is currently unable to offer work experience in the following clinical areas: Theatres / A&E / Emergency Department / Any Paediatric area / Maternity.
Our work experience policy covers short periods of shadowing / work experience. We typically offer between 2 and 5 days of work experience to each applicant, dependent on availability of work experience placements. This application process does not support longer elective placements (e.g. several weeks to support ongoing university degrees). For these, you would need to contact the relevant department directly to see if they are able to accommodate you.
What happens next?
You should receive an automated email to say that your work experience application has been submitted correctly.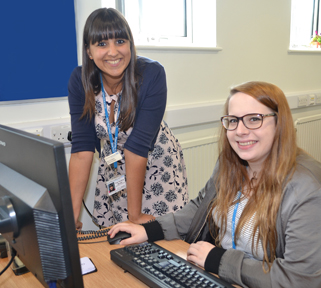 After the application deadline has closed, we will process all applications. Within one month of the deadline, you will hear from us as to whether your application has been successful.

If you are successful in gaining work experience, your references will then be contacted.  You will also need to come into the Education Centre for some ID checks.  You will be sent a work experience placement agreement to sign once these checks are complete (for your parents' signature too if you are under 18).
The WPT typically needs a minimum of 4 weeks to conduct the relevant references and checks.  Work experience cannot take place prior to these being completed and signed off.
Need more information ?
Please click on our Advice and Support page for information on health careers, apprenticeships, careers events, volunteering, membership and fundraising opportunities.
If you are a teacher or careers advisor and you would like us to visit your school or college, please email us at ruh-tr.schoolsandcolleges@nhs.net or call the Widening Participation Team on 01225 824281 or 01225 826041.
Please click here for full details of our
Work Experience Policy.