Current Vacancies
How we advertise
Cleaners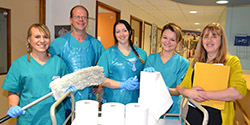 We are looking for hard working people to join the cleaning team on a full or part time basis. A clean hospital is essential for providing a safe healthcare environment, so you will play a vital role in our hospital and the well-being of our patients.
At the RUH we advertise all of our vacancies through NHS jobs.
To apply you will need to set up an NHS Jobs account, but you can view our current vacancies using the link below.
View vacancies & apply online
If you're thinking of applying for a post with us, please take the time to read through our Guidance for Applicants.
This will tell you a little more about who we are, our inclusive views on recruitment and some helpful information on completing the application form and preparing for an interview with us.
Find out more about Nursing at the RUH
Further information