Working for us
Welcome to the RUH
Our role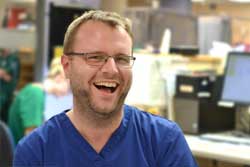 Discover what it's like to work in our Emergency Department
The Royal United Hospital NHS Foundation Trust Bath provides a suite of Medical and Surgical services to a population of 500,000, dispersed across West Wiltshire, Bath, North East Somerset and Somerset.
The Trust offers a range of acute medical and surgical services including Accident and Emergency & Trauma and Orthopaedics, as well as paediatrics, clinical support services, and maternity services.
To deliver these services the Trust employs around 4,300 staff, supported by a temporary, flexible workforce contracted through the Trust's Staff Bank, Staffing Solutions.
Our Ambition:
The Royal United Hospital, Bath will be recognised for delivering the highest quality hospital care for the people of Bath & North East Somerset, Wiltshire and Somerset as assessed by patient safety and clinical outcomes and
Our Core Values:
We are dedicated to excellent care
We demonstrate respect and equality for all
We work together – a united approach to care
We learn, plan, develop and improve continuously
We are trustworthy
We look after our environment
Our Respect Behaviours:
Treat others as you would like to be treated
Listen to and support others and make time to do so
Seek, acknowledge and value others' experience and contribution
Acknowledge others' beliefs
Be courteous and considerate to all
Treat others fairly and equally
Be honest and trustworthy and act with integrity
Encourage others to treat all staff with respect
Challenge the behaviour of staff who do not show respect to others
Are you the person we are looking for?
All roles within the Royal United Hospital NHS Foundation Trust (RUH) require people with a diverse range of skills and abilities.
We need people who are effective in:

working as part of a team
using initiative and determination
planning and organising their work
communicating with others
anticipating and solving problems
embracing change
learning new skills and acquiring knowledge
customer relations
Find out more