RUH Redevelopment Plan
Our Progress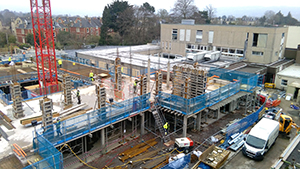 Work is well underway with the building's structure rising seemingly daily from the site at the front of the hospital. (April 2018)
Construction company Kier came on site in November 2017, first clearing the ground and carrying out important preparatory work ahead of the main building project.
Over winter and into 2018 the foundations were dug and filled in and below-ground drainage runs completed. That work, including installing insulation and a Radon barrier, was finished before April.
Then, once a large tower crane was erected on site, the building's reinforced concrete superstructure began to rise into the air.
Kier are also working on the former GUM Clinic, making internal alterations to the existing building including strengthening the roof and some internal walls. The building will accommodate the Rheumatology Clinic, so extensive internal alterations are required to convert it to its new function.