RUH Redevelopment Plan
Current Accommodation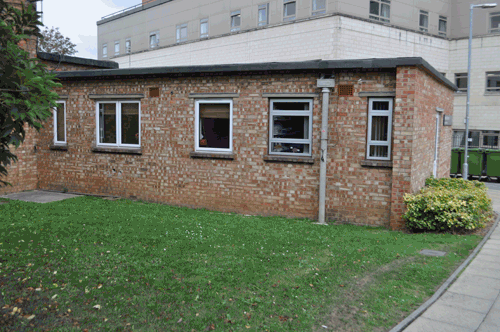 Existing cancer building
The current Cancer unit is located in a number of single story red brick buildings on the north of the hospital site and whilst the quality of clinical care is excellent, they do not reflect the quality of clinical care provided within. The buildings are 70 years old, outdated and inefficient.
A new approach is required and we now have the opportunity to provide a Cancer unit taking features and practices from around the world to provide a unique environment.
In order to build the new unit, we need to clear a significant proportion of the north of the RUH site. A complex number of other departmental moves, new builds and demolitions are required. This process has already started.
Now that our new Forbes Fraser Pharmacy is complete, work will start this Spring on the demolition of our old Pharmacy building, to make way for the new RNHRD and Therapies Centre.
We will keep you up to date on the progress of these and a number of smaller build and refurbishment projects on this web page. Once the north is cleared the building of the new Cancer Unit can begin.