Airway Lead
We pride ourselves in Bath that we provide the very best airway management for our patients. This includes:
Universal videolaryngoscopy. We have had videolaryngoscopy universally available in theatres and Intensive Care Medicine for the last four years. In April 2017 we moved to using CMAC videolaryngoscopes for all intubations in operating theatres and the intensive care unit.



Videolaryngoscopy is now also available in the Emergency Department. Such videolaryngoscopes are safer for patients, better for training and better for teamwork.
We believe that we are the first hospital in the UK, and probably the world, to do so.


Universal use of 2nd generation Supraglottic Airway Devices (SADs). We have moved to using only second 2nd generation supraglottic airwaysSADs (ProSeal LMAs and i-gels) rather than classic LMAs for all adults and children having an operation in Bath, as of June 2017. This also is a safety based decision. As we have widespread availability of these more effective devices our intubation rate is lower than many other hospitals.


High flow nasal cannula oxygenation for pre- and per-oxygenation. This modality of oxygenation was introduced into practice in 2017 after discussions with the Royal National Throat Nose and Ear (RNTNE) hospital, Grays Inn Road, London.


Twice yearly out-of-theatre airway workshops for anaesthetists and anaesthetic nurses/ operating department practitioners (ODPs), training together to rehearse airway rescue techniques and procedures.


'Tea trolley' airway training, bringing training to the staff in theatres and Intensive Care Medicine during the normal working day


Training link with the RNTNE Hospital (as above), with one Bath anaesthetic trainee per year being given the opportunity to complete an airway 'micro-fellowship' there. This programme is in its fourth year, and we hope that it will continue into the future.


A long standing history of research and evaluation of airway devices, airway training methods and airway management equipment over the past 25 years. Many airway devices (for example, the ProSeal LMA and i-gel supraglottic airways) were initially evaluated by our department, and one of our consultants, Professor Tim Cook, was a lead author in the NAP4 airway report: this has changed airway management practice in almost all UK hospitals and in many other around the world. Our long-standing involvement in airway research means we are often able to evaluate airway devices before they come to market and this has benefits for patients and clinicians alike.
We hope to provide our anaesthetic and Intensive Care Medicine trainees the opportunity to learn to use airway equipment that they may have not encountered at other hospitals, and to also participate in airway training and research projects.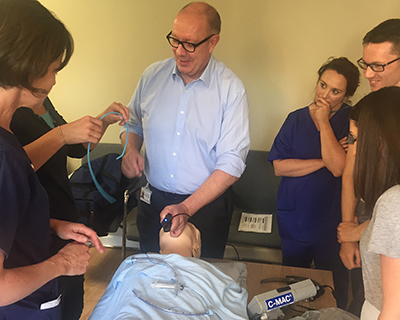 In 2018 we hope to introduce the Bath Airway Database to prospectively collect data on our airway management techniques. This will provide a useful analysis of modern airway management and an opportunity for more research.